Design Floor, MINAMO, Japanese style room with shower cubicle 14 square meters <Room 303·Room 305>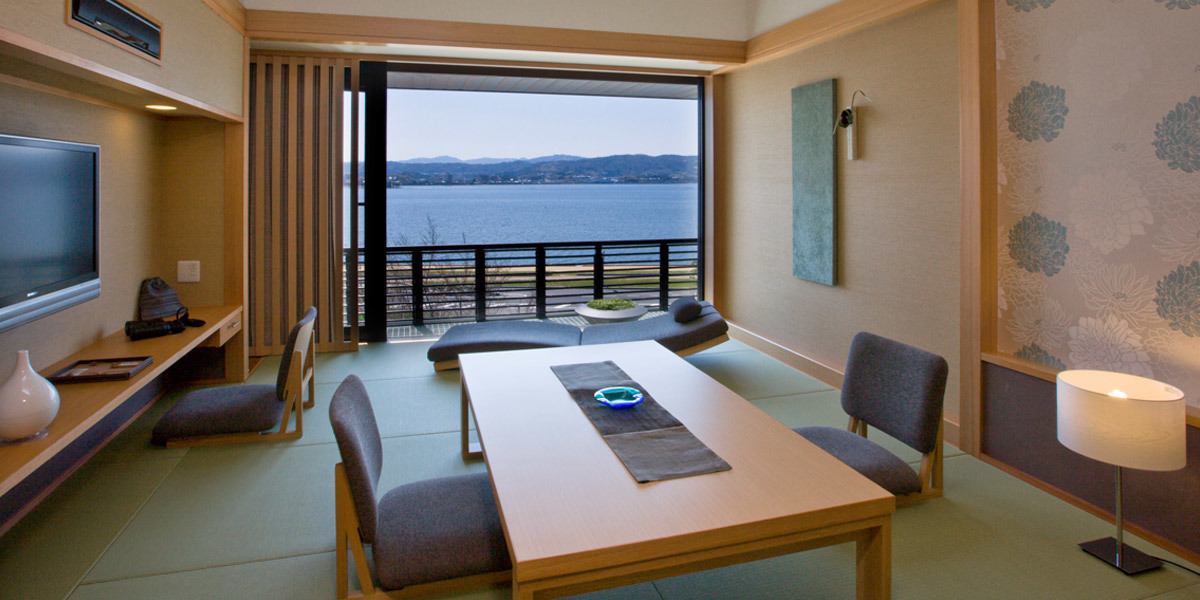 Design Floor MINAMO Japanese style room with shower booth 14 square meters

·Capacity 2 people(We prepare futon in tatami)
·14 square meters
·Exclusive area 28.55 m2
  ※There is no veranda outside the room.
  ※The windows in the rooms can not be opened.
·Cleaning toilet
·Non-smoking
·Feature of room, No bathtub
 With multi-functional shower booth
·Interior theme color
 (Room 303)Modern Japanese style design
 (Room 305)Modern folk art design
·Check in time is at 2pm/Check-out 10:00

New guest room MINAMO with shower booth of New guest room MINAMO which was born after renewal of 3rd floor in 2010. (Japanese room 14 sq m) There is no bath tub in this room, but there is a shower cabinet with multifunction shower installed. In addition, there is one original relaxation couch at the window, you can see the beautiful waterside view different from time to time from the large window glass facing Lake Shinji while lying leisurely. In a stylish new room with fine-grained design, please spend your relaxation time including the theater sound system that can connect Blu-ray player and portable music terminal.
(There is a step in the entrance of the room. There is no level difference to the rooms. )

≪About the room≫
·37 inch LCD TV, BD player
·Surround speaker
·FREE Wi-Fi (Available in this facility including guest rooms)
 Please bring your PC
·safe
·Negative ion hair dryer
·refrigerator
·Kettle pot
·Tea set (Free)


≪About amenities≫
·ALGOTHERM"Algoterm"
  shampoo, conditioner,
  Body Soap, Body Lotion,
  soap


Design Floor, MINAMO, Japanese-Western-style Room with Open Air Bath(306)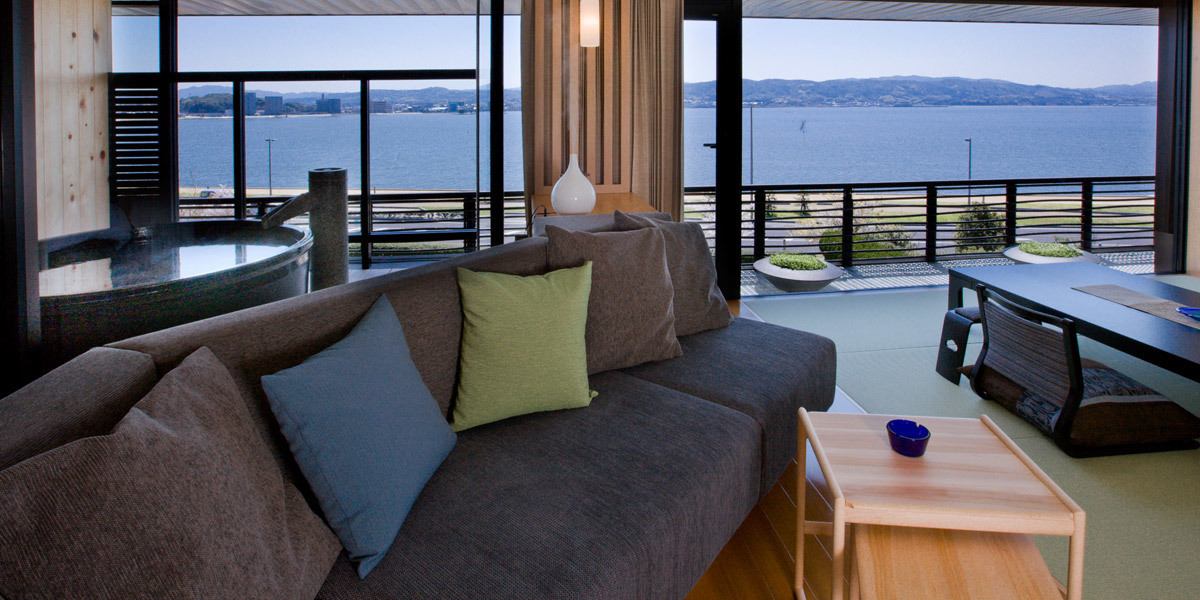 Design Floor, MINAMO, Japanese-Western-style Room with Open Air Bath(307)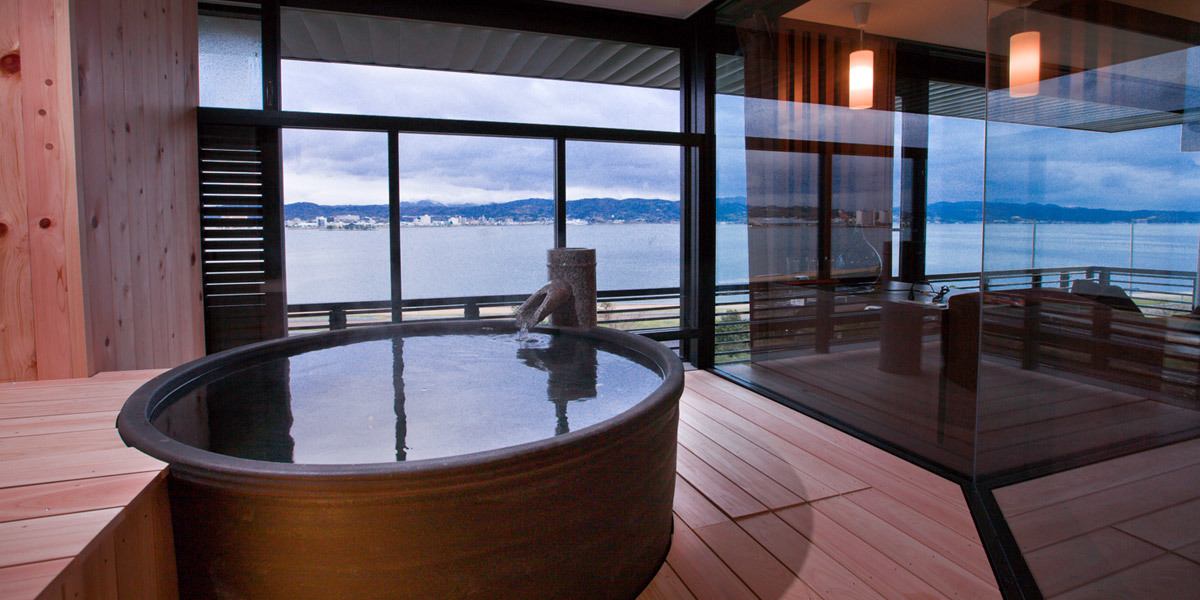 Design Floor " MINAMO " Japanese and Western style room with Open Air Bath<306·Room 307>

·Capacity 5 people
  (3 futons on tatami + twin beds)
·Size: Japanese + Western-style room 18 square meters+Bedroom twin beds
  (Bed Types: Simmons Co., LTD. semi-double twin bed)
 (You can change the twin bed style to Hollywood twin style. Reservation required)
·Dedicated area 57.10 m2
  (Area including indoor and semi-open-air baths)
  ※There is no veranda outside the room.
  ※The windows in the rooms can not be opened.
·Cleaning toilet
·Non-smoking
·Room features a semi-open-air bath with a view of Lake Shinji
  (A bathtub: Made by Shigaraki-pottery 130 cm)
 With multi-functional shower booth
·Interior theme color
 (Room 306)Modern Japanese style design
 (Room 307)Modern folk art design
·Check in time at 3pm/Check-out 11:00

In the New guest room MINAMO born with the renewal of the 3rd floor in 2010, the Japanese-style room with an outdoor bath has a bedroom in a Japanese room 18 sq m. (There is no partition. There is a circular Shigaraki-pottery bathtub outside of an independent multi-functional shower booth. You can enjoy the view of the beautiful waterside from the outdoor bath where two people can take a relaxing bath. There are partition walls in three sides of the bathroom, and on the side of Lake Shinji there is a storm-like sash so it is like a semi-open-air bath. You can see the scenery of the beautiful waterside from the large window glass facing Lake Shinji. The sofa is installed in the room, you can enjoy a theater sound system etc which can connect music terminal as well.
(There is no step on the slope until the room. There is a step in the bedroom bedroom in the room. There is no step in the other rooms.

≪About the room≫
·Room 306: 52 inch LCD TV
·Room 307: 42 inch LCD TV
·BD player
 Netflix movies and dramas online with Netflix
 Stream free playback is possible
·Surround speaker
·Portable audio speaker
·FREE Wi-Fi (Available in this facility including guest rooms)
Please bring your PC
·safe
·Negative ion hair dryer
·Bathrobes
 For children also
·Private bar
 refrigerator, Kettle pot
 Tea set (Free)
 Drip coffee
·Morning newspaper free (Please forgive the non-publication day)

≪About amenities≫
·ALGOTHERM"Algoterm"
  shampoo, conditioner,
  Body Soap, Body Lotion,
  soap


Design Floor, MINAMO, Barrier free · Corner view Japanese + Western style room(308)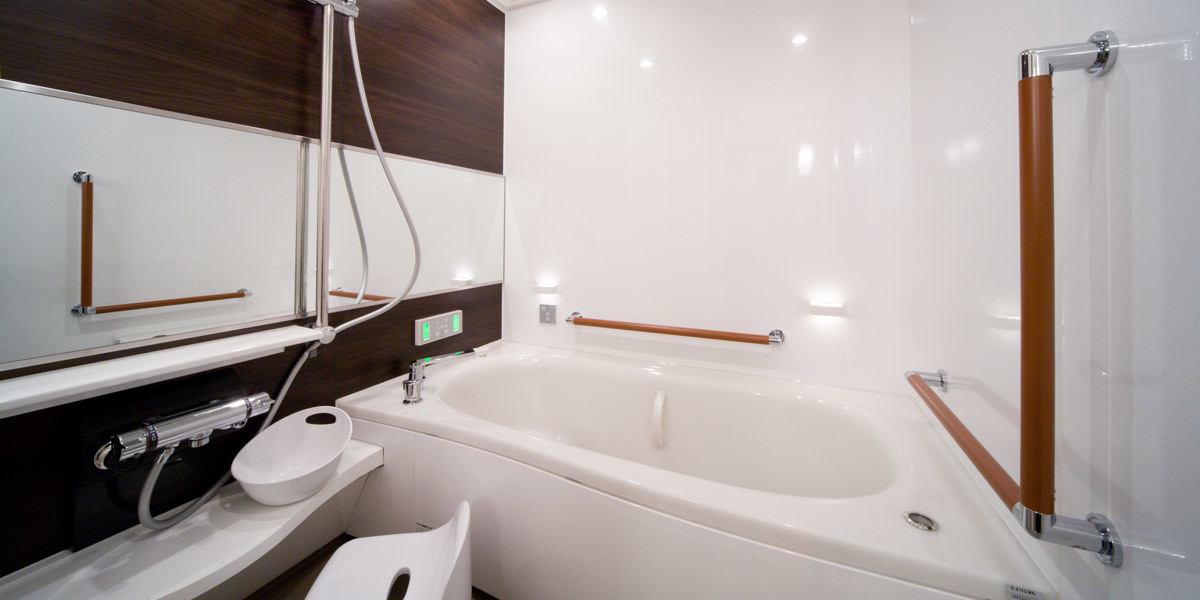 Design floor MINAMO barrier-free Japanese + Western room Room 308 room

·Capacity 5 people
  (3 futons on tatami + twin beds)
·Size: Japanese + Western-style room 18 square meters+Bedroom twin beds
  (Bed Types: Simmons Co., LTD. semi-double twin bed)
 (You can change the twin bed style to Hollywood twin style. Reservation required)
·Dedicated area 49.60 m2
  ※There is no veranda outside the room.
  (There is no outdoor. )
  ※Lake Shinji corner view
·Cleaning toilet (Barrier-free:Wheelchair compatible)
·Non-smoking
·Feature of room, Accessible rooms
 There is no step.
 The door is a sliding door and has an opening of 80 cm or more.
 barrier-free tub
 (There is no open-air bath ・ Automatic elevating shower carry is not available)
·Interior theme color
 Modern folk art design
·Check in time is at 2pm/Check-out 10:00

It is a Japanese + Western room with a bathtub in the New guest room MINAMO which was born after renewing the 3rd floor in 2010. There is a bedroom in a Japanese style room 18 square meters. (There is no partition. The rooms are barrier-free and there is no step on the floor. In addition, the entrance of the door is a sliding door that is over 80 cm. barrier-free washrooms with handrails and barrier-free bathtubs (there is no open-air bath, and automatic elevating shower carry is not available).The bath in this room usually hot water hot water, but you can also Onsen water Onsen water. Please contact the front desk if you wish. (The staff will visit the room to prepare the bath. The room has 4 chair tables.
(There is no step on the slope until the room. There is no step in the room. )

≪About the room≫
·Japanese room side: 52 inch LCD TV
·Bed side: 37 inch LCD TV
·BD player
·Surround speaker
·AV system connector
 Connectable to PC and portable terminal etc
 Please bring your PC, mobile terminal etc.
·FREE Wi-Fi (Available in this facility including guest rooms)
 Please bring your PC
·safe
·Negative ion hair dryer
·refrigerator
·Kettle pot
·Tea set (Free)
 

≪About amenities≫
·ALGOTHERM"Algoterm"
  shampoo, conditioner,
  Body Soap, Body Lotion,
  soap


【MINAMO 3rd floor: Common amenities】
·yukata
 Women can borrow free color yukata on the first floor
 Yukata for children (Please contact me the size)
·Night wear
 Free loan on the first floor
·Pillow menu with pillow menu (request)
 Pimmer feather pillow, Feather pillow,
 Pillow Pillow, Low Repulsion Pillow
·slipper (It is not disposable)
·Towel body towel
·Bath towel, hand towel
·Toothbrush
·Comb·brush
·Shower cap
·T-shaped razor
·Shaving gel
·Garment Deodorant Spray
★There is also a free rental equipment list. Please let us know while making your reservation.

【Humidifying air purifier】
Humidified air purifiers are provided in the guest rooms.

【Guide of the sunset】
You can see the beautiful scenery of Lake Shinji changing every seasons in front of the guest room, but you can not see the sunset in front of the guest room. For customers who want to see the sunset, we will guide you to the "Torupa" sunset viewing spot on the opposite bank.

【Information on smoking rooms】
This property is completely non-smoking, except for smoking rooms.